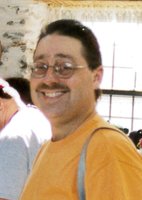 Jeffrey Scott Pastor
Jeffrey Scott Pastor, age 52, of Milford, passed away on Saturday, August 5, 2017 at Milford Hospital. Born in Bridgeport on June 23, 1965, he was a son of Mildred Bonicard Bratchell of Bridgeport and the late Thomas Pastor. Jeffrey was a jack of all trades and could be found many weekends working on someone else's car or helping with an issue at their house. He worked at Northbridge Healthcare of Bridgeport and Shady Knolls of Seymour where he enjoyed the residents just as much as he enjoyed the time with his co-workers. He loved camping and always devised ways to make the experience fun for everyone. When he could, in the past, he would jump on his motorcycle and take long country rides with friends. He loved being outdoors.
In addition to his loving mother Millie, survivors include his stepfather, Dennis Bratchell of Bridgport, a brother, Mark Pastor and his wife Denise of Shelton, a niece, Nicole Smith and her husband Dustin, and nephews, Daniel Pastor and Cody Pastor.
A memorial service will take place on Thursday, August 10, 2017 at 6:00 p.m. in the Abriola Parkview Funeral Home, 419 White Plains Rd., Trumbull. Friends may greet the family on Thursday evening from 4:00 to 6:00 p.m. Interment will be private and at the convenience of the family.
In lieu of flowers, memorial contributions may be made to the American Kidney Fund, 1463 Highland Avenue, Cheshire, CT 06410.